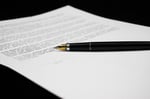 It's not unusual in our line of business to see many transferees (the person moving into Sweden for temporary work) to have a work permit that runs longer than the actual terms of employment. The increased corporate immigration influx to Sweden is impressive and it's on a lot of minds. There are many perilous consequences to work permits lasting longer than the actual employment.
Common issues that can arise to think of with business immigrationtypically arises for one of the following reasons:
1) Cut Short: This may have been an intra-company transfer into Sweden for a project which has gotten cut short.
2) Shift: If the employee was sent into Sweden for general assignments in the company's Swedish office, the demand may have shifted and the transferee may no longer be needed in that capacity.
3) Resign: The transferee may have been relieved of duties or otherwise deserted the post without pay.
Task: This may be so prevalent in Sweden because the employer faces no direct consequences if a work permit continues to be in effect after the culmination of the job. So long as things were on the up-and-up at the get-go, then the employer faces no fines or penalties.
Length: An employer will typically ask for a work permit to last a little longer than the task. It's onerous to have to reapply for a work permit for someone who's already in another country if the job runs long.
Consequence: Transferees are the ones who face the greatest challenges when you're dealing with this type of situation. Non-EU citizens may apply for work permits for up to 48 months, granted in 2 year allotments. At the conclusion of this time the transferee may apply for permanent residency if they have an established connection to the Swedish marketplace. However if they are hopping between two countries and the Migration Agency can't find any real connection to the Swedish marketplace, they will typically be denied!
This means that the employees will typically just be forced to leave Sweden for good. The employer will lose the resources of this skilled employee at their Swedish offices and with their Swedish clients. Therefore it's wise to for the employer to apply for permits which allow some leeway. If the transferee wants to apply for permanent residency they should be able to do so successfully.
It's also essential to cancel any outstanding work permits which are no longer being used!