Along with most other European cultures, Swedes celebrate the end of the year and the beginning of the new on December 31. Since traditions, celebrations, rules and regulations vary in every country, we thought it would be wise to let you in on how New Year's Eve is celebrated the Swedish way to avoid surprises and ensure an evening of exciting festivities.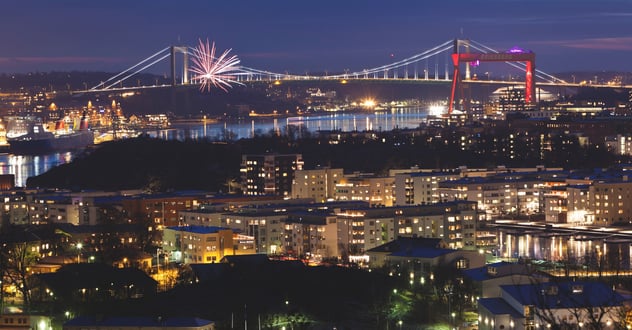 First of all, fireworks are legal in Sweden and close to midnight you will see the sky alight with fireworks in all shapes, sizes and colors. While it is beautiful to observe, one should be aware that pets are often frightened by the sound of fireworks, and to limit the anxiety they experience people are always advised to limit exposure to fireworks around animals. At the risk of stating the obvious, fireworks can become dangerous in the hands of someone who has had one too many snaps or doesn't secure the firing rig properly, so be extra careful to make sure the new year can be spent with all our fingers intact.
As we have mentioned before, many people spend the last hour of the year at Skansen to listen to the countdown, the toll of the bell, and the beautiful poem read every year by Jan Malmsjö. Many people also congregate around Slussen in Stockholm to witness the extraordinary firework display over the water and is a good option if you did not get your Skansen ticket in time.
Champagne is the drink of choice for most people on New Year's Eve and, since most people are off from work the following day, celebrations go on until 5 a.m. for many. If you are invited to a dinner party, the food will often be of the most exquisite kind, with lobster tail and/or fillet mignon being favorites on the New Year's Eve dinner menu. New Year's Eve is also the time to bring out your absolute best dress, or suit, and it is not uncommon to shop for your New Year's Eve outfit for weeks in Sweden. Simply put, it is impossible to overdress for New Year's Eve in Sweden, and more really is more.