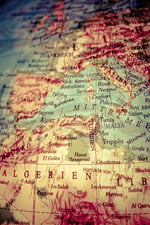 Five Questions to Ask Before You Relocate Your Staff when moving them from the US to Sweden.
Moving and making business readjustments are among the most stressful life events on the Holmes and Rahe Stress Scale, so every sliver of help is useful during corporate relocation of your staff. The uncertainty that faces them in both a new country and a new position is a struggle that everyone copes with differently, but considering five basic questions breaks the decision down into manageable chunks.
1) How Will Their Budgets Change?
Moving to Europe and not least Sweden is a change. Sweden's homes are typically smaller than those in the USA, but the country offers a bigger life. Travel to neighbouring countries can be achieved in a day, a factor that should be considered when your employees budget for their rents. Vacations will probably be far less expensive than they're used to, and the euro's current weakness also makes property costs easier to stomach. Europe's housing prices are all over the map, so it's time-consuming to advise or house them when it comes to rental levels. If they have children of school-going age, you will need to prepare them for the changes in education costs in their new country as well.
2) Will They Enjoy Their New Work Culture?
Swedes are known for their strong work ethic, a true boon for your managers and directors. Even so, only 7% of Swedes claim that managers needed to have answers to subordinates' questions on hand, largely because they expect their staff to make their own decisions. Trust and cooperation levels in Sweden score high on social metrics, which drags down stress levels. Extreme displays of emotion are considered inappropriate in Sweden, so your staff will need to learn how to deal more moderately with their co-workers and clients. If you help them to adapt to these changes before they leave the US, you won't lose efficiency when they begin to work in Sweden.
3) Does Sweden's Healthcare Structure Change Their Benefits?
Sweden ranks third on the global healthcare metric. It's less expensive, offers safer care, and is more patient-centred than that of the US, which ranks at between seventh and 11th on the same scales. Patients without recurring illnesses are likely to fare better in Sweden. Your staff should speak to their medical specialists about whether the country can offer the medical expertise they need. Those with easily treatable chronic conditions will adapt more easily, but you'll need to restructure their medical benefits to make up for Sweden's lower medical costs.
4) How well will they fit in with Swedish culture?
Sweden is a diverse cultural Mecca that your staff will get by in without learning a lick of Swedish. English is a common second language there, but you might want to send them for basic Swedish classes if yours is a large multinational firm.
Your employees' vacations will probably need to change after corporate relocation given that, in July, there is widespread closure of restaurants and stores for six weeks. As a human resources manager, you will probably need to restructure the way you manage their leave accordingly.
5) How Many Factors Tie Them To Their Current Country?
Relocating staff who have inflexible lifestyles and children is far more complex than doing so for your single employees who lease property. Planning can be time-consuming if schools, spouses, and mortgages tie them down. Helping them to deal with these challenges needn't eat up as much time as you might imagine, though. Relocation services move them smoothly by taking care of departures, home hunting, education services, and the like. Call Newcomer's to take the worry out of your corporate relocation.
Looking for more? Download our Whitepaper on the 7 things about Corporate Immigration your boss wishes you knew!