The destination service provider's expense like Newcomer's in Sweden is actually a nominal cost in the relocation package for someone moving to Sweden or anywhere else globally. A great deal of discussion goes into cost control and it's an important part of any company's responsibility towards shareholders and employees. A well planned transfer should not have to be too costly.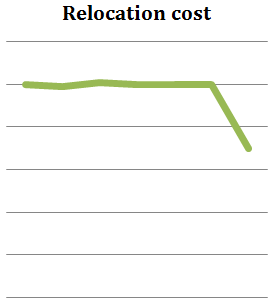 It's all in the planning. In Sweden and around the world local destination service providers have local and bespoke programs that are relevant to their location. In order to meet the transferees and local HRs needs we have put together bundled straightforward programs that will cover the needs for basic, medium and high level executives. The needs with government compliance, housing, schools, internet connection and the other details that make for a smooth transfer are covered. No need to go á la carte.
A well planned transition will be far more cost efficient that an ad hoc emergency, last minute damage control situation with costs often 30% or more than what was needed. In addition the employee had a bumpy transfer, failure to manage things herself isn't a good start and drains energy needed at work. And the unknown cost is actually the things the transferee doesn't even know they have to do so it doesn't even get halfway done can be detected only when something serious and costly happens.
We have a recent example of a poorly planned relocation which not surprisingly was handled by a middleman without knowledge of Sweden. The company ordered an area orientation, later a one day home finding, followed by a second day due to a change of preferences along the way and finally four months later settling in services. In spite of being well aware from the start that all these components would be needed it was ordered piecemeal. The cost turned out to be 30% higher than a bundled program could have been, the transferee left at his own devices and we were unable to plan the program so the components fit together for a seamless transfer. In the end everything was urgent rather than well planned and carried out before the holiday season when it notably difficult to reach anyone in Sweden apart from Newcomer's staff.
So how to do it?
1. Plan ahead and order the services early in bespoke bundled programs. Order a full program rather than piece by piece.
2. If you are very cost conscious go for a basic bundled program and upgrade within the programs. The lunch menu special is always more cost efficient, same goes for relocation.
3. Talk to us about the needs, we can provide you with a Plan A and an Plan B, sometimes things need to be tweaked to work. Location could be one such criteria.
4. Be aware of the holiday schedules in different countries. Ordering a school placement program in July in Sweden is likely to be a frustrating affair as they schools are closed and reopen in August and not necessarily in the beginning of the month, before the schooling is in place it's usually not possible to move along with the other components. That can delay a whole relocation for a school term because it's not possible to get confirmation on placements in time.
5. Remote locations outside the metropolitan areas require more of a head start while anything that happens in major cities can be more á la minute.
6. Remote locations are a lot more complicated to move families to due to schooling – it may not even be possible so allow time for Plan B.
7. Don't order relocation services the last day before you go on holiday, there will be questions that needs to be addressed during the transfer. Don't forget to have a backup that is briefed with the authority to make decisions, sign leases and approve terms. If not a variety of components may have to be ordered twice and the cost is doubled.