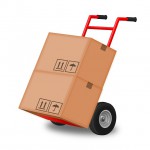 Peak season for moving is approaching fast. With 20 years' experience in the relocation business, we've learned a thing or two about moving over the years. We'd like to share our best tips to help you when moving to Sweden be an effortless experience.
Clothes - Be ruthless. Don't pack anything you haven't used in the last 24 months. If it's torn/dirty or too small/big, fix or give/throw it away.
China and kitchen ware - Throw out or give away anything with cracks. Pack with silk paper rather than newspapers, that way you can put the plates straight into the cupboards and don't have to wash everything at the destination.
Furniture - It's likely that your new property in Sweden will be smaller than where you are now so avoid large items that will probably turn into a storage issue in your new home.
Get help - Take whatever help you can get - Ask friends and family.
Put a number on each moving box that corresponds to a room in your new home so the boxes will go directly to the right room
Don't overfill - Completely filled boxes are usually very heavy and hard to lift.
Be systematic - Pack one room at a time – you will see results much more quickly
Clear everything - Don't leave small things. It's hard to take care of it all on the moving day.
Descriptions - Write a contents description on the top and side of each box. It makes life so much easier when prioritizing unpacking and finding the right box when they are stacked.
Professional cleaning - Get a cleaning company for the move out cleaning to make sure it's done thoroughly.
Plan early - Plan for your emotional departure, as well as the logistics and practicalities of moving. Make sure you leave enough time to say goodbye to everyone you need to. You will regret it later if you don't
Book tip - Buy the book "Clear the Clutter with Feng Shui", by Karen Bryston. You will love it and have far less to pack.
Enjoy your move! If you are already a Newcomer's client, take a look at our Customer Support Pages for more information on making your move and your new life easier!
Need some help with a healthy start for you relocation, read more here!