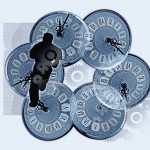 Peak season in the relocation business coincides with peak holiday season for just about everyone involved in the process of relocating employees and their families. Most families want to relocate in the summer to be in place for the start of the new school term. However, not only do schools shut for the summer but so do all the key players in the relocation chain. Immigration agencies, government authorities, landlords and utility providers usually operate on a skeleton staff over the summer period, slowing things down to a virtual standstill.
Europeans take holidays seriously and Swedes are particularly dedicated. Sweden more or less shuts down for July whilst in France and other European countries, July and August are holiday months. It really is a case of swimming upstream and advanced level juggling to get things done. As always, planning is key.
We have drawn on our 20 years of experience as well as the extensive experience of our European Relocation partners to put together a webinar that will help you overcome the considerable challenges of relocating staff during the long summer holiday season. A webinar that will outline how you need to think and plan so that you and the rest of your colleagues in HR can actually take a holiday over the summer too. One without zillions of interruptive phone calls and one that doesn't cost countless headaches later in the fall when overlooked tax issues are suddenly discovered.
Contact us at info@newcomers.se for any further questions!