While your work permit application is being processed by the Migration Agency, there are vast differences in what you are allowed to do and where you are allowed to go, depending on two main factors: the type of application and your citizenship.
Let's start from the beginning with a first time application to Sweden. When the application has been submitted to the Migration Agency, you can under no circumstances reside in Sweden, regardless of your citizenship. However, you don't necessarily have to be in your home country. For extensions and permanent residency applications, the rules on residing and travelling are different and dependent on your citizenship.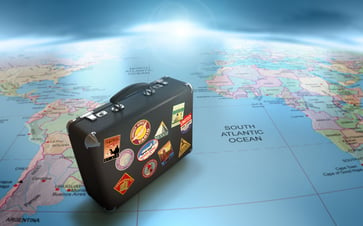 As long as an extension application is submitted before your current permit expires, you are allowed to reside in Sweden during the processing of the new application. As long as your residence permit card is valid, you can travel in and out of Sweden without any problems regardless of where you're from. However, when the card expires, your citizenship will come into play.
If your residence permit card has expired before you receive the new one, you can always travel out of Sweden but you may be restricted in returning. If you - by virtue of your citizenship - are on the visa waiver program and can travel within Schengen for 90 days without a visa, you are safe. Find out if you are here:
http://www.government.se/government-policy/migration/list-of-foreign-citizens-who-require-visa-for-entry-into-sweden/
If you need a visa, it will be difficult to travel during the processing period, since you will not be able to come back to Sweden without a valid residence permit card. Newcomer's always recommend that transferees who are not eligible for the visa waiver program stay in Sweden until they receive their new residence permit card.