Our commitment to a SWIFT DEPARTURE has given us reason to think about this for close to twenty years. We have zillions of stories, I'll share one early on in my career which gave me and the HR at that company reason to find a system that works and it still does.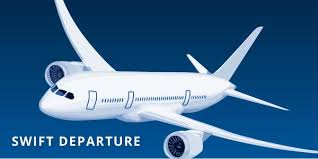 Who wants to come to a handover when entering or leaving a property and it's a mess. It's not a good start or ending. Our client had loads of software developers coming to Stockholm and staying for 6-12 months. We found them apartments and they were supposed to take care of themselves for the duration of the stay, that wasn't a problem. Their love for Stockholm was touching. They didn't have the touch for move out cleaning though.
I came to an apartment that had been left the same day to check the condition and to retrieve the key. I called HR that went to the assignee and said that there had been complaints about the condition of the flat. He didn't understand anything… WHAT he had spent hours cleaning and was very pleased with his efforts and couldn't understand that anyone could think anything else. That's when I had to tell my HR friend that;
The bed had been left with dirty sheets
The wet towel from the morning shower was on the floor in the hallway
Boxes of empty beer cans were in the bedroom, hallway and kitchen as well as on the balcony – about a year's worth
The refrigerator was full of mold and rotten food – he clearly wasn't a cook but had the ambition to try a few months back
While we laughed and solved it with the help of a cleaning company we also realized it was time to change something. We spoke far too often about the same thing which is a sign to improve, develop and implement something that works.
When you have a cleaning company that works with a set structure, engaging professionals, with an in depth knowledge and passion for their trade you should never let them go. We have such a cleaning company. They are a little bit more expensive, not because their hourly rate being higher but because they spend more hours so when they leave it clean. EVERYWHERE. Light bulbs are replaced so the deposit can be repaid since no one has to wonder if the lights are broken or not. They save us, HR and the landlords many hours of damage control and above all it was a SWIFT DEPARTURE with a happy tenant (the company got the deposit back) and a happy landlord that can be an ambassador for the company going forward. The story of the first guy didn't go viral, Facebook didn't exist back then... The tenant left Sweden thinking it was the best time in his life – and that is our mission.